Cycling is a popular type of exercise, but it is also an activity that most of us have done since we were children. There are a number of reasons why we like to cycle - some of us cycle because we want to stay fit and lose weight, while others cycle purely for leisure reasons or to get around faster. Whatever your reasoning, cycling is very good for you and there are many places to do it. Below we are going to take a look at the best cycling apps for Android mobile users.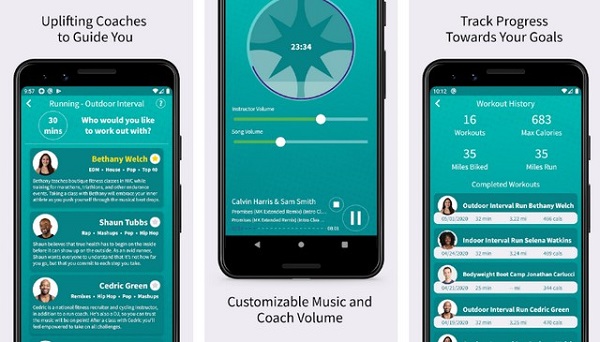 CardioCast
This is one of the most unique cycling apps that you will come across. In short, it is just a set of workouts for those who have a stationary bike at home. It has more than 800 cycling workouts and every single one has motivational quotes and music to help keep you going. All you have to do is select an instructor and how long you want to work out for. The workout will then start, and you just have to follow along. This app is not free though - it is $9.99 a month or $89.99 per year.
Komoot
This is a great app for mountain bikers, hikers, and road cyclists. At its core, it is a navigation app. You simply download a region, plan your route, and then cycle (you can also run or walk) that route. You can download different regions for different prices as in-app purchases, but some of the app is free too. Maps can be downloaded for offline use, so you do not need to make use of your mobile data while you are out cycling. This app is very easy to make use of, which is always an added bonus.
Kudo Coach
This is a trainer app that helps cyclists build their own training regimens. It keeps track of your heart rate and will adjust your training accordingly. In other words, if the app does not see that you are sweating and working hard, it will increase the intensity of your workout to make you do so. It will also keep a database of your stats so you can keep track of how you have been doing. The app is free, but if you want to unlock all features, there is a monthly subscription of $5.99 or a yearly one of $54.99.
Map My Ride
This app does exactly what its name says it does. It allows users to map out their cycling routes and track where they have been. It is also good for hikers, walkers, and runners and is simple to use. You track your cycling runs, then look at the stats and change your routes or workouts accordingly. The app is also able to support a wide variety of third-party gadgets like Wear OS, Fitbit trackers, and Jawbone trackers. Some parts of the app are free, but if you would like to be able to use all of its features, then there is a monthly charge of $5.99 or a yearly one of $29.99.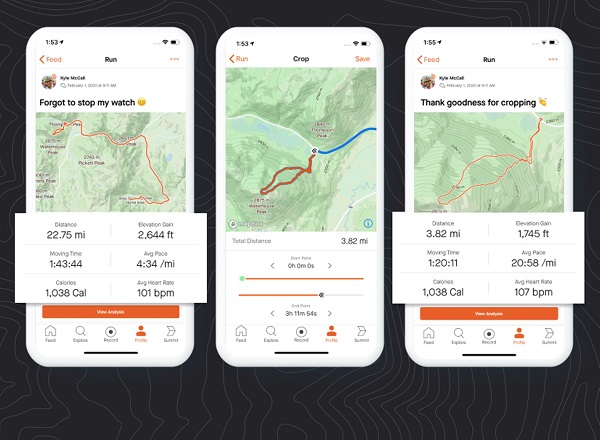 Strava
This is a great app for cyclists and runners and works quite a lot like the aforementioned Map My Ride. You track and record your cycling routes and stats and then set challenges for yourself. The app will track cycling speed, distance, elevation, and the calories burned. There are also some social features such as a Clubs feature where users can motivate other users. There is also support for indoor cycling since they know that many people have indoor exercise bikes. Some of the app is free, but for all features you have to pay a monthly subscription of $5.99 or a yearly one of $59.99.
Trailforks
This mountain biking app has more than 150,000 trails from across the world. It makes use of crowd sourcing, so you can upload your routes if you like. Some of the features of this app include GPS location support, offline trail maps, elevation profiles, and information about the various routes. This app is completely free, which is always nice to hear.
Zeopoxa Cycling
This is a cycling tracker app. You can see your route, the number of calories that you burned, the distance that you cycled, and more. Furthermore, there is a great feature that allows you to set future goals. This app is not as powerful as some of its competitors, but it is completely free so you should not really expect to get it all. The app makes use of GPS to monitor your location and does not require and fitness accessories. This is the perfect app for cyclists who do not mind a manual approach and are looking to save some money.
TrainingPeaks
This is another brilliant biking log app and has an array of cool features. Users have the ability to log rides, track daily stats, and post workout comments to keep track of things such as tiredness level. The app tracks speed, power, distance, and much more. The hardcore features include GPS location support, a heart rate monitor, and the opportunity to plan workouts. Some parts of this app are free, but if you want to be able to use all the cool features that we just mentioned, then you will need to pay $19.95 per month or $119 per year.